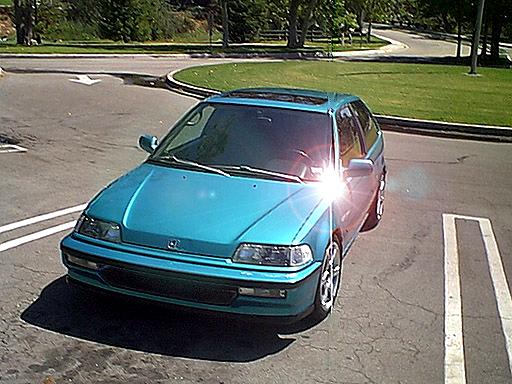 This page is dedicated to my 1991 Honda Civic HB Si. I've had this car for about two years, and I love it! Click on one of the sections below to see what I've done to my car.
UPDATES:
November, 1st, 2000
The new cross-drilled rotors came and I installed them. Everything went smooth *after* I got an impact hammer from Sears. What's next? Probably some new shocks... stay tuned
September, 17th, 2000
Well, I ordered some Neuspeed cross-drilled rotors from Carparts.com last week and I can't wait until they get here so I can install them and throw away my warping stock rotors.
July, 4th, 2000
Yes, I finally got some rims. Look above for some pics on how my car currently looks with Alt "X-philes" 16in rims. The tires are 205/40/R16. Haven't had a chance to really test out the new handling, but the car feels much different (the steering a much lighter, and I can feel bumps more, due to the low profile tires). What's next? Probably a new clutch and some shocks.
April, 14th, 2000
I made my own AEM-Style intake last week and it is awesome! I am very very pleased with the power gains. I can now chirp 2nd gear (never been able to before) on a clutch with 120,000miles! Not bad at all. For all interested go to http://www.teamdelsol.com/howto/coldair/diycoldair.htm. The total cost was $100.00 for parts and it took me 10 hours to build and install it (not an easy upgrade), but well worth it. Some day I will get a digital camera and take some pictures of it. Oh, and I also looking into getting a nice set of 16" rims. Stay Tuned...
October 15th, 1999
Wow, didn't realize how long it's been since an update. The biggest change to my car is the suspension. A couple weeks ago I installed some Progress springs which dropped it around 2.5" (I can just make it over speed bumps, fenderwell gap is 2 fingers all around). I like the added stiffness and less body roll. Total cost: $170. Haven't taken any pictures yet, so stay tuned.
June 3rd, 1999
I've been low on funds recently, so not much is going on with my car. However, yesterday I bought a set of Pioneer 6 x 9's, with which I'm going to build a speaker box for them... Never done this before, but if it works out good, I'll make a page on how-to do it..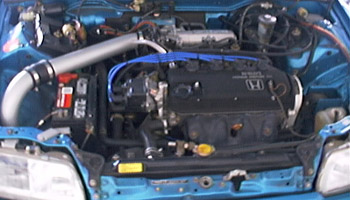 Engine Mods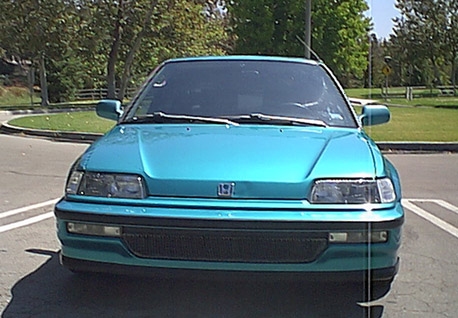 Visual Mods



Stereo Mods

Performance Data



How-To's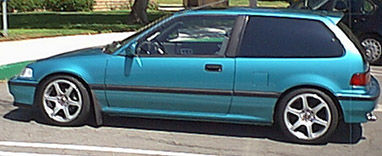 Pictures of my '91 Si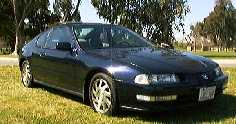 Click here for more info on my friends '94 Prelude


Have visited this page since February 23rd, 1999
Thanks to www.digits.com for the counter!


Have any questions about my car? Like to comment on my webpage? Go for it, my e-mail adress is below and I usually reply within a day.
Jonas Dalidd
E-mail: jdalidd@uci.edu
Home Page Installed: Monday, February 22nd, 1999
Last Modified: Sunday, September 17th, 2000